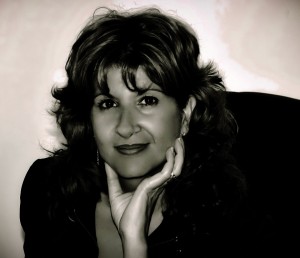 I think the title of "devoted mother" is the best way to describe me. I am enchanted by the beauty, potential, and incorruptibility of the child's world. Having had what I can term a stolen childhood – being born and raised in my beloved yet war-torn country of Lebanon – I have a passionate lust for giving every child in the world, my children included, the fair chance at exploring their uniqueness and abilities happily, contentedly and most importantly, peacefully. I have two children, Julia and Jude, and I do undoubtedly breathe life through them.
As a child I was an aimless daydreamer more than anything else. It was difficult to have had focused dreams in the midst of a merciless war; it was also natural to feel insecure, and I indeed did. However, this feeling of insecurity was always coupled with a strong sense of determination to thrive, but not to a clear end-purpose. Fortunately, in 1982 I was blessed with an opportunity to travel to the United States to pursue my education; and experience "normal" for the first time.
I believe that I found the correct path as I am now a holder of a Ph-D. in Civil Engineering from the State University of New York at Buffalo  and a certified Project Management Professional from the Project Management Institute.
Being a dedicated mother did not hinder my successful and (to an extent) guiltless career path; I believe that  I have chosen smart positions and negotiated work terms that did not sacrifice my number one priority, motherhood. I started my career in the United States in Information Technology after developing an interest in this field. Working in a field outside my educational background, I exerted tremendous personal effort on learning while on the job; it was tiring and frustrating at times, yet challenging and fulfilling. I worked in IT for about ten years at major corporate organizations in the States such as EDS and MCI WorldCom. Through it all, I miraculously worked my way up to management in software development.
In 2002, and after I was blessed with my first child Julia, I moved to Dubai, United Arab Emirates to be closer to the rest of my family. I switched back to my field of study and joined a Building Contracting company just to be promoted to its General Manager a couple of years later. I reserve the right to believe that I am the only female General Manager of a construction company in Dubai; simply because every time I communicate with an external business associate via email, I am addressed as Mr. Samar!
My favorite book is and will always be "The Prophet" by Gibran Khalil Gibran.
Truthfully, I cannot be more content and grateful for all that I have been blessed with.